About Us
Creativity Academy was founded in 2007 by RNDr. Hana Pavelková and has focus on personal development since its founding. Through the use of integral art therapy workshops and seminars participants gain trust in their own potential, promote creativity, and thus they get a different perspective on their daily sorrows and joys.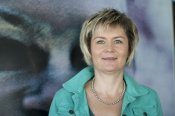 RNDr. Hana Pavelková is a holistic art therapist. She studied at the Vienna Academy of Art Therapy (www.a-kt.at). She studied at the Palacký University inOlomouc bevore, domain Mathematical informatics and acquired also pedagogical education. She successfully passed courses of painting with the right hemisphere in acryl and wax in various art-education centres in Austria, Germany and the Czech Republic
Thanks to practical experience from tutorials she designed her own program of painting in acryl for wider public.
The artist displays her pieces on various exhibitions and her works are in hold of private persons as well as various companies. See more on the pages of the gallery.
Contact: RNDr. Hana Pavelková
Univerzitní 20
CZ-779 00 Olomouc
Phone: +420 603 247 483
e-mail: info(et)creativityacademy.eu